Component Solutions for High-Horsepower Engine Equipment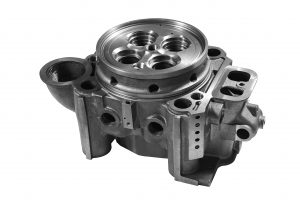 For over a decade, Impro has manufactured and supplied investment castings, precision machined parts, and sand castings used in fuel systems, and emission control systems, and castings of cylinder heads and engine blocks for high-horsepower engines.
Impro delivers a range of one-stop solutions, including:
On-site engineering support
Rapid prototyping
Mold design and production
Casting
Secondary machining
Heat and surface treatment
Laboratory testing
Product certification
Warehousing and supply chain support
Impro: Capabilities for the High-Horsepower Engine Sector
Engines with power outputs higher than 500 HP are considered to be high-horsepower. The most powerful high-horsepower engines are used to power airplanes, nuclear power stations, and cargo ships. These engines run at horsepower ranges measuring between 100,000 and more than 1 million.
High-horsepower engines are critical components of large capital equipment, thus they must deliver high performance and reliability to run equipment at desired efficiencies in order to reduce operating costs.
Impro specializes in manufacturing precision components for high-horsepower engines operating in the 500 to 100,000 horsepower range. Applications in industries that operate this range of engine include:
Oil and gas for pumps, drills, power modules, and workover rigs
On-highway trucks, off-highway vehicles, and rail locomotives serving the construction, agriculture, mining and rail transportation industries
Power generator sets for providing emergency backup, critical standby, prime power or peak shaving to industries such as, healthcare, cargo ships, manufacturing, mining, water and wastewater treatment, government facilities, and large commercial buildings
The high-horsepower engine products we manufacture in applications such as:
Fuel systems
Emission control systems
Engine blocks
Cylinder heads (can be manufactured using a range of materials and complex geometry)
Diesel engine cylinder blocks in V-, W-, and line-types, manufactured from ductile, grey, and vermicular iron weighing as much as 16 tons
All of Impro's components can be manufactured using a broad range of metals, guaranteeing a material that will best fit the needs of your application.
What Sets Impro Apart from the Competition
Impro is an internationally respected leading supplier of components for high-horsepower engines. For all your high-horsepower engine component needs, trust Impro for high quality that meet your specific needs while meeting or exceeding our industry's high standards.
Impro can help you manufacture components for your high horsepower application. To learn more, please contact us.
Resource Library
We offer a wide range of information to expand your knowledge base.