Investment Casting
Impro is a worldwide leader in investment casting, a metal forming process that typically uses a wax pattern surrounded by a ceramic shell to make a ceramic mold. When the shell dries, the wax is melted away, leaving only the mold. Then the casting component is then formed by pouring molten metal into the ceramic mold.
Investment Casting Process
The investment casting process can be broken down into the following steps:
Typically, the investment casting process begins with the making of wax patterns. The wax is injected into metal dies and internal features are formed. Ceramic or water soluble cores are used to create complex internal features. Wax patterns are attached to a central gating system consisting of sprue and runners, forming a casting cluster pattern. This creates the various channels which facilitate the flow of molten metal into the cavity or cavities of the mold.
The casting cluster is submerged into a slurry of fine ceramic particles, coated with coarser particles, and dried into a shell encompassing the gate system and patterns. The process will be repeated until the shell becomes strong enough to tolerate the molten metal, at which point the wax is melted away from the shell in an oven to create space for the metal material, resulting in a single-piece mold. This wax can often typically be recovered and reused.
After being preheated to about 1000° C, the mold is ready to receive the molten metal. The metal is ladled into the gating system and travels into the mold using the natural downward force of gravity. Vacuum or pressure may also be applied to speed up this process.
The filled mold and the metal inside cool and solidify into the final part shape. Cooling times depend on multiple factors, such as part size, mold thickness, and material type.
Once the metal has cooled, the mold is broken and the casting is removed. This is often accomplished through the use of water jets, though other methods may be used as well. Once the mold is removed, the gating system must also be cut off with a saw or broken off using liquid nitrogen.
Many investment-casted components require finishing operations like grinding or sandblasting may be used to smooth the part where it was cut or broken at the gate. Heat treatment may also be used to harden final parts.
Advantages and Applications
Investment casting has many benefits, thus the process is implemented across a wide range of industries, including passenger car, commercial vehicle, high horsepower engine, hydraulic equipment, aerospace, construction equipment, agricultural equipment, recreational boat and vehicle, medical and energy.
Advantages
Investment casting is able to eliminate the need for secondary machining after casting and provides economies of scale over multiple production runs.
With an extensive selection of alloys to choose from, final parts display highly accurate and smooth surfaces, low tolerances, and feature lower weights with thin walls. The process allows for great design flexibility, and parts of almost any size or complexity can be produced. Other methods do not provide the same tolerance capabilities.
Applications
Components created via investment casting are central in numerous industries. Examples of compatible applications include:
Turbine blades
Engines
Medical devices
Fuel systems
Turbochargers
EGR systems
Impro's Investment Casting Capabilities
Impro is capable of meeting material specifications according to ASTM, SAE, AISI, ACI, DIN, EN, ISO, and GB standards. We have more than 100 different ferrous and non-ferrous alloys with which we cast parts using complex design criteria. Our dimensionally and geometrically complex investment castings are produced to net shape, minimizing the need for secondary machining.
Our top-of-the-line equipment and automation process controls allow for consistent and repeatable tolerances as close as ± 0.1 mm. Our castings can also be produced in a wide size range—they may be as small as 10 mm long x 10 mm wide x 10 mm high and weigh as little as 0.01 kg, or as much as 1000 mm in length and weigh as much as 100 kg.
At Impro, we pride ourselves in offering our customers the highest-quality service from start to finish. Our services include:
In-house tooling design and manufacturing capabilities
Prototype development
Process research and development
Manufacturing flexibility
Qualification and testing
Our global clients include companies in the automotive, aerospace, and medical industries. We employ numerous non-destructive and laboratory test methods on site in our quality lab to verify the precision of internal structures and material compositions. Our highly-skilled engineers, chemists, and technicians handle order loads from a few pieces to several million per year.
Learn More
As the global leader in investment casting manufacturing, we take pride in offering only the best services on the market. Our passion for outstanding customer service fuels our drive for excellence. To learn more about our services or discuss options for your next project, reach out to the team today.
INVESTMENT CASTING 3D ANIMATION
fully integrated capabilities including in-house tooling design and manufacturing
Primary Equipment for Investment Casting
Investment casting of complex precision parts requires high-quality equipment capable of achieving tight tolerances with repeatable accuracy. Machinery and manufacturing processes must also be able to process large volumes quickly and seamlessly without compromising product quality.
At Impro, we employ the latest in advanced technology and cutting-edge process equipment at various phases of the investment casting process. Tooling design, wax pattern injection, wax pattern assembly, shell-making, pouring, heat treatment, and testing are all performed using the best available machinery, operated by our qualified team of experts.

Wax Injection
Impro's fleet of wax injection equipment consists of more than 50 sets of MPI fully automatic and semi-automatic wax injection machines. MPI's industry leading injectors allow us to achieve higher casting yields and reduced lead times for high volume production runs. Our automated conveyor chain is integrated with the automatic cleaning line and seamlessly connects to the wax pattern and shell making shop. Our emphasis on process automation helps to minimize the risk of handling damage.
Robotic Shell Making Lines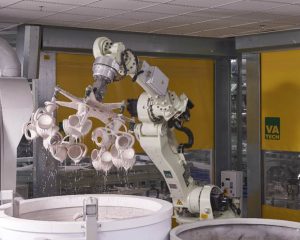 Expertly programmed robotics are highly reliable and eliminate coating and stability errors associated with manual operations. Our robotic equipment performs 360-degree automatic coating, stuccoing, and suspension line hanging with minimal human intervention. Lights-out automation allows our shell-making line to operate 24 hours a day, seven days a week.
Robotic Wax Pattern Assembly Line
Our fully automated robotic wax pattern assembly line replaces conventional manual methods of pattern assembly and is capable of running around the clock. The manually time-consuming pattern assembly process is performed by our system of robotic arms, resulting in significant improvements in our assembly process, faster lead times, and enhanced product quality and consistency.
Multi-purpose Heat Treatment Line
Our heat treatment line consists of equipment from industry leading furnace solutions provider, AICHELIN. Our automated, CNC-controlled heat treatment line can perform multiple operations such as conditioning, carbon restoration, carbonitriding, and tempering of carbon and low alloy steels. Our heat treatment line runs 24 hours a day with only manual loading and unloading required when necessary.
Laboratory Inspection and Testing
All casted products are thoroughly inspected in accordance with stringent internal quality management procedures to ensure compliance with customer and industry specifications and standards. Our inspection arsenal consists of three coordinate measuring machines (CMM) capable of verifying dimensions within fractions of a micron. We also employ strict PPAP and process flow verification procedures to guarantee the quality of all materials during the manufacturing process.
Final inspections processes are further augmented with our multi-station automatic X-ray testing systems. This ensures that all products that leave our facility are free from internal defects such as gaps, cracks, holes, or inclusions that may compromise the component's structural integrity.
Investment Casting with Impro Industries
Impro's investment casting techniques can meet even the most challenging customer demands and specifications. To discuss how our advanced equipment and processes can transform your investment casting project, please contact our team of experts or submit a request for information.
Investment Casting Material Capabilities
Material Capabilities
Impro can meet material specification according to ASTM, SAE, AISI, ACI, DIN, EN, ISO, GB standards.
Stainless Steel
Martensitic Stainless Steel100 Series
ZG1Cr13
ZG2Cr13 and more
Ferritic stainless steel
200 Series
ZG1Cr17
ZG1Cr19Mo2 and more
Austenitic stainless steel
300 Series
304
304L
CF3
CF3M
CF8M
CF8
1.4308
SUS304 and more
Duplex Stainless Steel
400 Series
ZG1Cr17Mn9Ni4Mo3CU2n
Precipitation Hardening Stainless Steel
500 Series
17-4PH
15-5PH and more
Low Alloy Steel
IC4140
IC8620
16MnCr5
42CrMo4 and more
Aluminum Alloy
A356
A355
ZL101
ZL108 and more
Carbon Steel
A216 WCB
A216 WCA
1020
1045
1050
ZG230-450
ZG340-640 and more
Super Alloy
Inconel 713
Inconel 718
Inconel 90
Inconel 100
FSX-414
F75
MARM-247 and more
Copper Alloy
Cast Iron
Ductile Iron
QT-400-18
QT400-15
QT450-10
QT500-6
QT600-3
QT700-2
QT800-2
QT900-2 and more
Grey Iron
HT200
HT250
GG-15
GG-25
G2500
EN-GJL-200 and more
Compacted Graphite Iron (CGI)
VWS-GLV-300-2U-D
GJV-400
GJV450 and more
Investment Casting Process Capabilities
| Process | Weight | Size Limit | Surface Finish | Melting |
| --- | --- | --- | --- | --- |
| Lost Wax | 0.03~100kg/1oz to 220 lbs | 1000 mm | Ra6.3 (Ra3.2 achievable if specified) | Vacuum and Air |
Typical Products
impro admin
2017-07-05T04:16:16+00:00
Material: Stainless steel
Application: Automobile
Resource Library
We offer a wide range of information to expand your knowledge base.